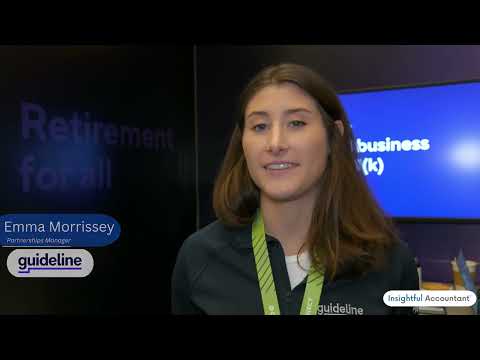 Full Transcript
My name is Emma Morissey and I work with Guideline. Guideline is a 401K provider that fully integrates with a bunch of different payrolls so that we can essentially take all the nitty gritty, annoying manual process of a 401k, make it way simpler and easier and faster for you and your clients. So it's a great way to differentiate what you can offer your clients.
It's a great value add you can offer them as well. There are a bunch of different tax credits that you can take advantage of. With a 401K, you can actually receive up to $5,000 a year for the first three years of a brand new 401K plan. That's a great benefit for your clients as well. And we make it really easy with our Guideline for Accountants dashboard to add plans and see all your clients in place. And it puts you in a position of advisory and helping them set up a plan, consult on plan design and save for retirement.
So typically with a manual payroll process the way it's traditionally been done, that takes at least 20 to 30 minutes of time each payroll period to update the 401K roster and contribution rates. With Guideline, you don't have to do any of that at all. It's zero minutes.
Guideline and QuickBooks Online are fully integrated, which means we talk to QuickBooks overnight every night to make sure we have all the correct information to administer your 401K plan.
So you don't need to let us know when you hire an employee. You don't need to let us know when you terminate an employee. We're going to know about it within 24 hours. So we've completely removed the manual aspect of making it fully on.
---
Like what you're reading?
Subscribe to our FREE newsletter and we'll deliver content like this directly to your inbox.

This post originally appeared on
Insightful Accountant