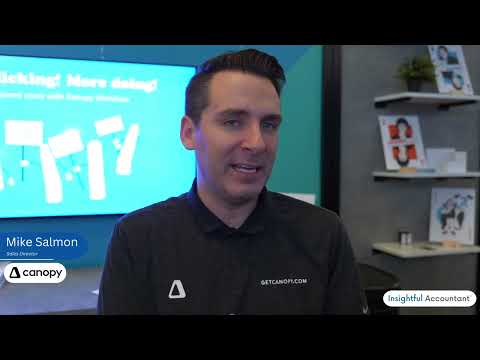 —transcript follows —
My name is Mike Salmon and I work with Canopy.
Canopy is an all in one practice management solution. So all of your document management, workflow management, and your time, your billing, all your client interaction is all in one spot. Canopy is the consolidation of all the apps. Accountants are already using numerous applications to do their work.   Canopy' consolidates many of these APPS and minimizes the logging in and logging out of different applications across the spectrum and putting it all in one place.
Instead of sending documents through one application with your client and then having your client sign through a different application, billing your client through a different application canopy allows your client to log into one client portal with your brand on it and your name. And they can do everything with your practice, with your firm in one spot. Signing documents, sending documents, receiving documents, paying invoices, so your client has a much easier time interacting with you as well.
Canopy has a direct integration with QuickBooks online.  We do allow you to print directly from any tax software, print your documents into Canopy. TIme savings is going to vary by firm based on their business.  Are they bookkeeping heavy? Are they tax heavy. We've done a couple case studies that show that accountants are saving eight hours a week. So, reach out to learn about Canopy @ https://www.getcanopy.com/

This post originally appeared on
Insightful Accountant